The teacher
Worthington resident Cynthia Tinapple is known around the world for bringing like-minded artists together through her blog, PolymerClayDaily, that has featured fine polymer art for 13 years.
But the crux of her interest lies in the transformative qualities of what was originally a child's art material.
The clay
The low-fire clay requires few tools and its accessibility allows students to quickly unlock artistic skills they did not know they possessed. During the classes, students make exciting discoveries and experience a sense of control over their environment. They become makers, artists.
Teaching at ORW
Cynthia began teaching inmates at the Ohio Reformatory for Women (ORW) several years ago in conjunction with the Kindway/Embark re-entry program.
Handcrafted polymer items created by incarcerated women are sold by volunteers to build a fund that helps support women who are returning citizens.
The inmate artists know that for every four bracelets that are sold, a 30-day bus pass can be purchased for a returning citizen who needs transportation. The women are pleased that they can pay-it-forward.
There is no higher praise than to hear an inmate say, "For an afternoon, I felt free."
Returning citizens
Women who have returned to the community can attend special InsideOut workshops at the Madery once a month.
They receive clay and tools donated by polymer artists across the country so that they can continue to hone their skills and nourish the sense of empowerment that creativity gives them.
Exhibits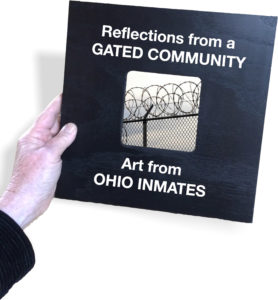 The inmates and returning women have participated in several national and international exhibits.
View from a Gated Community – High Road Gallery
Reconciliation – The Vineyard
Fimo 50: The 50th anniversary celebration – Nuremberg, Germany
Into the Forest – Pittsburgh 2017 and Atlantic City 2019
Read more in this Columbus Dispatch article about a High Road Gallery exhibit of inmates work entitled "View from a Gated Community."