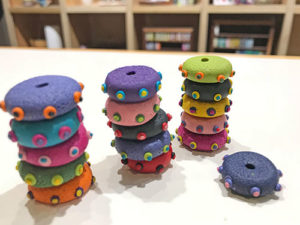 Weekly 2 1/2 hour hands-on classes taught by renown polymer artist, Cynthia Tinapple. $45 includes supplies.
May 3 – Polymer 101 – trendy, wearable beads on a ball chain. Learn the basics with style!
May 24 – Charming – speak out with your personal polymer charms
June 7 – Extruding – think toothpaste from a tube. Learn how to squeeze clay through an extruder to create the most amazing patterns
June 21 – Stars and stripes – polymer gives you the freedom to make your own version of the holiday
July 19 – Simply studs and earrings – Enhance your summer wardrobe with designs that make your heart sing
Sign up for class now!